FAQ's Please Read Before Calling Us
Bird Prices are non negotiable- we normally are always over sold ..Our high quality birds are in demand.
***We RESERVE The right to stop or REFUSE sale to anyone we feel is unqualified to own one of our birds.
CONTACT 704-735-8601 SERIOUS INQUIRIES PLEASE,, We love our birds but we are very very busy as we operate a fully productive breeding operation, breeding over 100 babies yearly and it requires lots of work hours. We just do not have the time to discuss birds that we may not have available now or to talk about a bird that you may be considering in the distant future and we just do not have time to discuss a bird that you have purchased somewhere else, you would need to talk to a vet if its a medical question and a bird trainer if its a behavior problem..
We will be glad to discuss with you any bird that is available now and you are NOW ready for a new family member.
Can you ship me a bird? Is it safe? How do you ship it?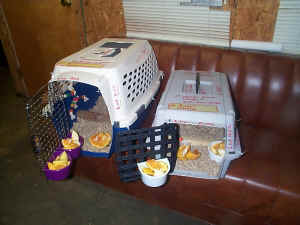 Are your birds guaranteed?
YES, absolutely! our birds are 100% guaranteed healthy at the time of arrival if being shipped. If you pick your bird up here its guaranteed to be 100% healthy at time of purchase or take home. All our babies are DNA screened for Chlamydia and all Cockatoos are DNA screened for PBFD and each comes with all testing results and certificates from the labs. Each baby is monitored and maintained in state of the art brooding systems with air filtration. We use Human baby Neonatal Isolettes in the first stages of the brooding process.
All our breeders are maintained on the highest quality formulated diets, not seeds. Our breeding facility is a closed facility, we normally do not purchase birds for breeding and we never purchase for resell. As a preventive measure strangers are not allowed in or around the breeding farm or the breeding units. We operate a closed facility, meaning we do not add outside birds to our breeding collection and we do not allow outsiders to enter any area where our breeders are. All babies are maintained in weaning cages behind glass barriers for viewing but not touching by everyone coming around. This protects our birds from poking and proding like you see in open pet shops that have their birds on open display for ALL to touch, this is very dangerous and its where the problems start. If you can touch it, then anyone, everyone else can as well. What does these people have on their hands, do they have sick birds at home, etc. We do not purchase or bring in strange birds into our facilities. We do not purchase birds for resell we ONLY sell what we produce. All babies are monitored and routinely tested for yeast and bacterial problems while in our nursery... All these procedures are preventive and helps us maintain and deliver you a extremely healthy baby. However, You have the right, and we encourage within 48 hours of receipt to have your bird examined by a avian veterinarian and if there is any problem, any problem, we will replace the bird or refund your money. Failure to have the bird examined within the 48 hour period is your choice and we are not liable for anything after that. Due to many factors, we must put a time limit on this as we are talking about a living breathing bird and many things can go wrong in a short time. We do not know how you are treating the bird, we do not know what or if the bird will be exposed to any thing that might bring on some sort of problem, we do not know what type other birds if any are or have been in your home..We do not know if you have visited bird shows, visited pet shops, played with others birds, etc. These places are breeding grounds for substandard birds with many many possible bacterial, viral problems. Having the bird checked out protects you and us as well. Its your choice. Due to our preventive measures In over 30 years we have not had any problems. We are not hobbyist back yard breeders with other jobs, we are professional aviculturists and this is all we do, so we do not cut corners and we do not just deal with our birds on our spare time, our professional aviculture ventures make sure we have no spare time.
How much is a deposit for a baby bird when available.
We no longer offer tiny babies and accept deposits and try to deal with that throughout the weeks or even months before a bird is ready to go home.....BIRDS THAT ARE OVER 10 WEEKS OLD AT THE TIME OF POSTING OR ANY BIRD THAT IS READY FOR SHIPPING IS TO BE PAID IN FULL. However you can put your name on a contact list and we will send you an email when babies are almost ready to go. We only offer the birds when they are almost ready to go. We try not to take deposits on very young babies, we now like to offer the birds at around 10 weeks old and then go from there.
Note: When we say that the bird is weaned and ready, we expect our customers to be able to take receipt promptly. If we are shipping, we will take care of all arrangements ASAP. Extra charges will be incurred if the bird is left here beyond an reasonable given time, we charge $5 per day.
Can you tell me the sex of my baby bird?
Yes, We DNA sex all our babies as well screen for health conditions. We just take a little blood from the toenail and send it to our lab, AVIAN BIO..You also get a certificate from the lab.

**Note

*SPECIAL**** FREE DNA sexing and health screening for our ALL babies.
How do I get a payment to you?
We take CASH, MasterCard, VISA, Discover, AMEX , western union, etc...and postal money orders.. We also take Paypal. NOTE*** ALL PAYPAL, and credit card PAYMENTS WILL be charged a 3% process fee. You can call us for payments and for updated available bird info, as what may be available right now, may not be available within the next hour.
To save on processing fees, we recommend to wire the money western union and walmart also has a money transfer system, you can go to your local walmart and wire the money.
Our prices are NET, that means we expect the full price for the bird, when we take credit cards and or paypal, we are charged a fee by the processing card or paypal. We lose sometimes $30-40-50 dollars on a sale.
You can contact us for details, we are happy to help you.
ALL North Carolina sales are 7.5 % sales tax. shipped or picked up. shipping to airports outside NC there are no sales taxes.
Do you have baby birds all the time or is it seasonal?
Yes, the breeding season is seasonal. Most pairs of birds start to lay eggs in spring or sometimes earlier. Each species is specific to their own seasons, some breed in late fall , some spring, some summer. We can have babies starting in march but we will post all available hatched babies on this site. However we do have many people who wish to reserve eggs before they are laid. We do not like to do this due to we never know if any certain eggs will be fertile. Many people ask us what will be have available the next day, we must stress this, what is available today may not be available tomorrow. As our babies are becoming even higher in demand, we do seem to sell out very quickly in the season.
Can I get my bird before its weaned?
No, No, No No need to ask. We are professional Aviculturists. We only sell properly weaned healthy babies. This way we can guarantee the health of our birds 100%. We may let a bird go home while on the night time feeding, but the bird will be eating on its own and this feeding is for comfort only. Unweaned birds or baby birds needing critical care in the wrong hands can be dangerous for the birds life and this is totally unacceptable to us. We know there are many "so called breeders" that do this, But its

wrong, wrong, wrong,

and unethical for ANY one to sell an unweaned baby needing critical care, knowing full well that you could not properly care for it, no matter how many minutes they teach you, it takes years to gather the knowledge, its also wrong for you to purchase a critical care baby just to save a few bucks and this may endanger the life of that bird. We are sooo glad that many states are now passing laws to stop the sell or possession of unweaned parrots at pet shops, bird shows and other places. We may sometimes let a bird go home when the bird needs maybe one handfeeding maybe once at night, but the bird must already be eating on its own to suit us and we must feel comfortable about it, otherwise we will not do it, period.
Most horror stories we hear comes from people who purchased a bird from some backyard breeder many times out of nest box, bird shows or a sleazy pet shop and the baby was just too young or unweaned and needed critical care that you cannot give properly and the problems started and they lost the bird or stunted the growth or other health problems. Most people including some of these so called bird breeders do not have the knowledge to properly handfeed and do not have the right equipment for "properly" brooding and maintaining a baby bird. Some of these breeders will sell these unfeathered critical unweaned birds because they will not, or cannot purchase the needed expensive equipment so they sell babies to you as fast as they can before the real work and horrors begins on them. The next time they tell you how easy it is, HOW ABOUT THIS?...just tell them , that if its that easy, and if anyone can do it?...just keep it until its weaned and you will come back and get it for the same price, and watch the attitude change. We sometimes will let a baby go home when on one feeding, they do not need heat, or need brooders and they are eating much on their own or we do not let them go. So if you are looking for a discount bird from a discount breeder or dealer, we cannot help you...we are professionals and we produce only quality and we only sell quality premium babies that can give you a lifetime of companionship.
Our birds health and welfare will come first or no sale. Sorry....
Do you do anything to your birds to mark them, band them, micro chip them, etc. We do have some species micro chipped such as hyacinth babies but on most all species we band them only We close band every bird, some states require that parrots be banded or they will be confiscated, like New York. New York requires all pet birds in pet shops to be banded. We use stainless steel closed coded bands with our CODE RBC and the birds number on each band.

Example: RBC NC B1000.
Can I send you special things for my bird before it comes home?
NO, We cannot accept outside things to be put into cages with the baby birds as we wean several birds together and the other person may not want that exposed to their birds, Also we may not approve of some things, Especially the stuffed animals that many people try to use around their birds. These things are for one thing VERY unsanitary as they are made from cloth and get soiled. We use REAL bird toys that are made for the species. Also one thing is that many people may not realize that most parrots are chewers and those things will get chewed up and what if the birds ingest these products, like the filling. These stuffed animals are mostly from china as they are made cheaply and we do not know what the filling or the outside is really made from. When placing thee things in and around your large birds its just asking for troubles. Would you eat it, put it in your mouth, or chew on it?
Can I Ask you to Feed or not feed special foods to the baby.
Can i tell you to clip wings or not clip wings?
We do what we need to keep the birds safe, We will always do what we feel best for the safety of the bird. As long as the bird is in our hands and care, we will clip the babies wings slightly for safety, Baby birds tend to be active during the weaning and without clipping it is very dangerous as one can not control birds without being clipped while being outside the cages, We only do what we call a baby clip, this is clipping the least off to allow the bird to still be able to safely climb, balance, and if to fall or jump or attempt to fly they still can land safely. However after you get your bird you can do or not do whatever you desire, but just remember birds natural instinct is to try to fly, THEY ARE BIRDS..THEY FLY .so be careful if you decide to NOT trim wings, it may be a mistake, read our horror story from the front page. CLICK HERE>> OUR BIGGEST MISTAKE
I need cages, food and other bird stuff where do I find the right things?
I am local, Can I pick up my bird when its ready to go home?
Yes, You can also visit your baby on Saturdays and take pictures. You can make an appointment with Sheila for your time. We encourage this as much as possible. We have many people that visit their growing baby every Saturday. When the babies are unfeathered they stay behind glass and cannot be touched by you or anyone else. This protects your baby from airborne pathogens and from dirty hands. Only babies that are feathered, will be allowed to be touched by you. We will also insist that you wash your hands here before you interact with your baby, also we insist that you change your clothes before coming here if you have visited other birds, bird shops, breeders or have other birds in your household. Actually we just think it might not be a good idea to visit us at all if you have been somewhere else. We really do not like to take that chance of exsposure.
These procedures and prevention programs ensures us our babies stay healthy and ensures you a healthy baby when its time to go home. Yes some people get insulted when we ask them to wash up here before handling their bird, but we do not care...it kinda shows us their attitude towards the safety of their bird, remember we do reserve the right to refuse sale to ANYONE that we feel is an inappropriate caretaker. Period..
What kind of birds do you breed?
We only breed specific species that we consider the best for human companionship, many species simply are not suited for this. Though there are many colorful and pretty birds and parrots out there and many are offered by some other breeders some of these birds offered just do not make a good companion, in our opinion.. We DO NOT Produce hybrids of any type. you can click here for the >> BIRD PAGE
How long does it take for me to get my bird ?
From hatching to weaning it takes 10-12-16 weeks or longer depending on the species. Hyacinth babies can take 6 months for weaning and sometimes longer. Depending on the age of the baby when you purchase the bird, it can be several weeks before we actually ship you any bird or before the bird can leave here. We try to post babies on the web site when they are almost ready.
No bird will be allowed to leave here until weaned or we feel comfortable that it is ready.

If you can not wait then try not to purchase, because the bird will not be allowed to leave here until we say so, because the birds well being is our only concern. Other wise no sale, sorry.
What will my bird eat when it comes home?
All our babies are weaned onto a very highly researched and advanced avian diet. We do not feed seeds. Although one of the weaning foods (TROPI MIX) has some seed in the mixture, though they are fully shelled, no waste or mess. The main base diet is HAGEN Tropican Granules, this formulated food is the absolute best diet on the market.
FREE STARTER KIT: before we ship the bird...We send you a package starter kit that includes foods, treats, instructions for long term healthy care., etc. This complimentary package helps you get started off right.
The foods included in the FREE kit is what the baby is eating here.. We recommend that you keep your bird on this diet for the long term health of your baby. After receipt you can change to what you wish, but please remember when you call us in a few months, year or two and ask why does my bird look bad?, why does his feathers look poorly?, etc. Our first question is always "what are you feeding?"
If its not broke, why fix it?
We look forward to hearing from you and hope we can help you find a lifetime feathered companion for your family.
CONTACT 704-735-8601 SERIOUS INQUIRIES PLEASE,, We love our birds but we are very very busy as we operate a fully productive breeding operation, breeding over 100 babies yearly and it requires lots of work hours. We just do not have the time to discuss birds that we may not have available or to talk about a bird that you may be considering in the distant future.and we just do not have time to discuss a bird that you have purchased somewhere else, you would need to talk to a vet if its a medical question and a bird trainer if its a behavior problem..
We will be glad to discuss with you any bird that is available now and you are NOW ready for a new family member.